If you would like your team to feature, please get in touch. We would love to hear from a variety of teams, new and old, good and bad!
Any of our wonderful umpires looking to share their Lockdown life hack, please get in touch also. We're sure teams will love to hear more about their favourite umpires.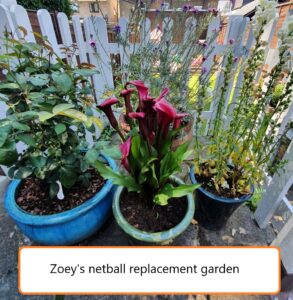 During the Covid-19 outbreak, we want to keep in touch with our teams and umpires, and get to know them even better whilst we're off the court.
In our eighth episode we're getting to know Zoey, who has umpired with playnetball since season 1 way back in 2008 and has been a stalwart site manager at Highbury on Monday evenings.
As much as Zoey is missing netball, she has been enjoying her free evenings and catching up on all the latest watching offerings and has discovered a new passion for gardening.
Zoey, what have you been up to during Lockdown?
Working like crazy, literally juggling the kids, and gardening like a pro!
How have you been keeping fit?
I try to go running 2-3 times a week, BIG emphasis on the TRY
What's been your favourite Lockdown viewing film/ series?
Getting through IT ALL! So much more evening time on my hands without the netball commitments. Ozark, Mad Men, Snowfall, Sewing Bee
What are you most looking forward to after Lockdown?
A HOLIDAY and getting back on the courts of course!!.
How have you been keeping your whistle blowing skills at peak performance during Lockdown?
Haha, Gary Burgess did a few good videos I followed on the England netball officiating page. Some handy hints and tips there
Got any Lockdown life hacks to share?