If you would like your team to feature, please get in touch. We would love to hear from a variety of teams, new and old, good and bad!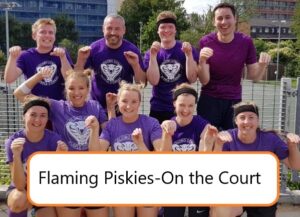 During the Covid-19 outbreak, we want to keep in touch with our teams, and get to know them even better whilst we're off the court.
Here's our sixth episode,  Flaming Piskies play with us on a Monday in Angel mixed B grade league.
This teams morphs into a new shape each season luring new mythical creatures to play in their team. If you are their opponents when courts reopen, lets hope you play against Tom on a chilled night!
We love their sage advice for newbies – "Spaces. Not faces!"
How did the team get together, and how do you all know each other?
The Flaming Piskies team actually dates back to the year 2008! Though we no longer have any of the original players on the team, we will never change our name! A Piskie is a mythical creature from Cornwall/Devon and we just add the flames! Nowadays we're a mix of friends from Uni and other netball teams, who all joined because Hilary asked (told) us to. We were 'volunteered'. Netball is life and Ru Paul is our Sensei.
How long have you been playing with Playnetball.com?
Do you have a favourite umpire, or site manager and if so, why?
Jesse is one of our favourites, He's given great advice to all our players, especially the newer guys.
Best 'career' highlight for the team?
14 match streak and an unbeaten season in 2019!
Do you have a particularly funny/ interesting fact or story about Flaming Piskies?
One of our players, Tom, used to be a rival! In a heated game, an 'accidental' elbow to the face left our teammate Charlie with a split tongue and a trip to A&E for 5 stitches! Needless to say we admired this ruthlessness and invited Tom to join our team a few weeks later. They're friends now we promise! Pictures of Charlie's severed tongue available on request.
What advice would you give to a new team or individual that would like to join Playnetball?
Top recommendation in London (apart from Playnetball.com obviously!)
Team pizza at Crate in Hackney Wick followed by a walk to the Copper Box to take in some high quality International Netball!
Describe your team as a drink…
Off court, how could we restrict it to just one drink!
On court, a Flaming Sambuca – because there's a clear goal in mind but you don't always end up with the results you want!
If your team was a film, which film would it be?
Big fans of Dodgeball! We went to last year's summer tournament as the Globo Gym Purple Cobras, got to the final and lost – true to form!! But we will, we will, rock you!
When you're not playing netball together, what do you do?
During lockdown we've been catching up every Monday when we'd normally have a game to check in with everyone, do a quiz or the occasional work out together! In normal times, we're netball fans first, friends second and casual alcoholics third!