If you would like your team to feature, please get in touch. We would love to hear from a variety of teams, new and old, good and bad!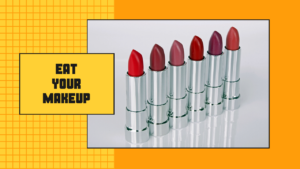 During the Covid-19 outbreak, we want to keep in touch with our teams, and get to know them even better whilst we're off the court.
Here's our fourth episode,  Eat Your Makeup who play with us on a Wednesday in Highbury and are on their fourth season with us.
This bunch of solo netballers we put together, have turned our to be a well quaffed hairdo to go along with their contouring!
Episode 1 – Groovers
Episode 2 – Hoopz and Honeyz
Episode 3 – Umpire Nora
How did the team get together, and how do you all know each other?
A few of us applied as solo players and were put together as a new team. Since then we have recruited various friends and colleagues to join the team. No experience necessary. 😁
How long have you been playing with Playnetball.com?
This is our fourth season.
Do you have a favourite umpire, or site manager and if so, why?
Hard to pick a favourite…they're all very friendly and always keen to offer advice and to remind us of the rules!
Best highlight for the team?
Last season (our third ever season), we saw our team make real progress- even winning a few matches. We had a lot of very close games which felt like a win even if we lost.
Do you have a particularly funny/ interesting fact or story about Eat your Makeup?
We were given the name 'Pink Flamingos' when our team was formed and had the opportunity to change it the following season. After discovering 'Pink Flamingos' is a film by John Waters, we decided to honour the team's roots and call ourselves after another of his films: 'Eat Your Make-Up'. So no, we're not casting shade on your contouring! The film features a deranged nanny who kidnaps young girls and forces them to model themselves to death.
What advice would you give to a new team or individual that would like to join Playnetball?
Join our team! Don't take it too seriously and make sure you have fun.
Top recommendation in London (apart from Playnetball.com obviously!)
Since we play in Highbury we'll keep it local….there's a great pub on Holloway Road called The Lamb. Good selection of beers, cosy, and excellent music! And Union Chapel up the road is one of the best music venues around. Oh and not forgetting the Myddleton Arms and Islington Assembly Hall!
Describe your team as a drink…
In honour of our Aussie teammate Amy who has just moved back to Australia, we'd have to be a schooner.
If your team was a film, which film would it be?
When you're not playing netball together, what do you do?
Go to the pub for a post-match drink.