If you would like your team to feature, please get in touch. We would love to hear from a variety of teams, new and old, good and bad!
Any of our wonderful umpires looking to share their Lockdown life hack, please get in touch also. We're sure teams will love to hear more about their favourite umpires.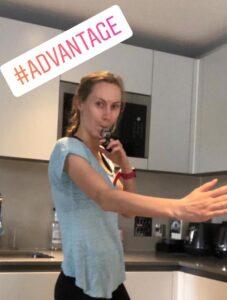 During the Covid-19 outbreak, we want to keep in touch with our teams and umpires, and get to know them even better whilst we're off the court.
In our third episode we're getting to know Nora, who has umpired on most nights but more recently has been site managing on a Wednesday in Angel.
Nora has been keeping active with fellow netballers providing her with some personal Pilates sessions and has been settling down with old Friends. She is dusting her whistle weekly and getting up to date with the 2020 rule book. And yeah we had to look up "goose neck" also 🤣
Episode 1 – Groovers
Episode 2 – Hoopz and Honeyz
Nora, what have you been up to during Lockdown?
Working from home (having taken over the kitchen table) as our office has been closed to protect the staff and others. 
How have you been keeping fit?
Daily walks and Carly Rowena workouts which include 500 rep challenge; a Women's Health resistance band workout 🏋️‍♀️ and not forgetting a fellow netballer who does Pilates for my team!
What's been your favourite Lockdown viewing film/ series?
The Innocence files, Grace & Frankie, Ozarks, and rewatching Friends from the beginning!
What are you most looking forward to after Lockdown?
Playing netball / seeing my netball friends, and winning games in North London & Essex leagues 🤣
How have you been keeping your whistle blowing skills at peak performance during Lockdown?
Sadly whistle is collecting dust but brushing up on the 2020 rule book to aid in my B award prep 🙌🏻
Got any Lockdown life hacks to share?
Invest in a 'goose neck' for your phone, means that when you do FaceTime / video call meetings your arm doesn't get sore 🤣