If you would like your team to feature, please get in touch. We would love to hear from a variety of teams, new and old, good and bad!
Any of our wonderful umpires looking to share their Lockdown life hack, please get in touch also. We're sure teams will love to hear more about their favourite umpires.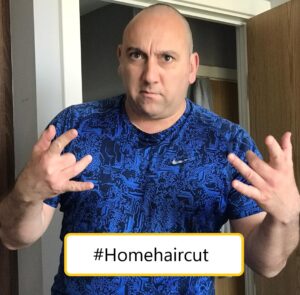 During the Covid-19 outbreak, we want to keep in touch with our teams and umpires, and get to know them even better whilst we're off the court.
In our seventh episode we're getting to know Kosta, who has played with playnetball since season 1 when we started up and has umpired on most nights but more recently has been site managing on a Tuesday in Angel.
Kosta's new toy is the supermarket self scanner and he can't believe how he coped with shopping without it! Filling his time DIY-ing and enjoying time with his 5 year old and "really" looking forward to getting back to netball when we can.
Kosta, what have you been up to during Lockdown?
Out of work ………..so using the time effectively to DIY, plan, organise, declutter.  Also been spending way too much time with the family. My 5 year old has been driving me crazy. 
How have you been keeping fit?
Doing plenty of bicep curls lifting beer pint glasses. I didn't get into the Joe Wicks hysteria. I need my gym to open desperately.
What's been your favourite Lockdown viewing film/ series?
White Lines on Netflix.. it's about the dark side of Ibiza. Loved it 
What are you most looking forward to after Lockdown?
The first pint in a pub, meeting up with mates, going to gym, going on holiday, and of course getting back on the netball court.
How have you been keeping your whistle blowing skills at peak performance during Lockdown?
Got any Lockdown life hacks to share?
Use the scanner guns at supermarket and skip the queues. Can't believe I didn't do it before.