If you would like your team to feature, please get in touch. We would love to hear from a variety of teams, new and old, good and bad!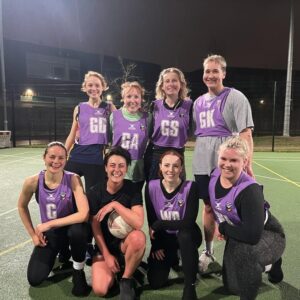 We recently caught up with our friends Queerballers, to find out more about their club, what they offer, and how they got involved with playnetball.com!
Tell us a little bit about Queerballers, how the club came about, and what you offer?
Queerballers is a social netball community group for all queer women, trans and non-binary people to play the sport they love in a social, welcoming space where they are free to be themselves. Our sessions are open to any levels of netball experience or ability, and are focussed on respect, encouragement, and most importantly – fun!

At the moment, we run sessions at 6:30pm every Monday at Highbury Fields and we have two teams entered in the playnetball league on a Wednesday. As well as regular netball, we have socials that provide an opportunity for us to all get together and go on tour once a year. 
How did your teams get involved with playnetball.com?
A few players at our Monday sessions were keen to play netball more competitively. We tried a few leagues in our local area before ending up at playnetball.com! 

We have teams in the B and C Leagues with playnetball.com and we love that we can play on the same days, and then all go for a drink together after our matches!
What do you like about playnetball.com and what has made you stick with us?
We have really enjoyed playing with playnetball.com and we're really happy here after trying several different leagues in the area. The umpires and other teams are friendly and it feels like we have built a nice community in the leagues.

We have also really appreciated playnetball.com's approach to our trans, nonbinary and gender nonconforming players, letting them play wherever feels most appropriate. 
What do you think are the biggest barriers to participating in sport (such as netball) for the LGBTQIA+ community?
Many LGBTQIA+ people have faced discrimination and a lack of welcome when playing sports in the past, particularly when at school. This experience as children and young people can seriously deter LGBTQIA+ people from engaging in sports, particularly team sports, when they are adults.

For trans, nonbinary and gender nonconforming people, playing any gendered sport can often be a challenge. Netball has traditionally been seen as a "women's sport" so this gendering can feel more extreme than in other sports. Some sports organizations, teams, and leagues lack comprehensive policies or practices that explicitly address LGBTQIA+ inclusion. This can both perpetuate discriminatory practices and leave LGBTQIA+ people feeling unwelcome or excluded.
Do you think netball as a sport could be more inclusive to the LGBTQIA+ community?
We recognise that netball has made progress in terms of LGBTQIA+ inclusion over the years, but there is still a long way to go before the sport is fully inclusive, particularly to trans and non-binary netballers.
What is in store for Queerballers in the future?
In the future, we want to continue to grow and develop our community by welcoming more new players, developing our netball skills, and building stronger friendships and community bonds. 

We are looking forward to the new league at playnetball.com and may even be expanding to three league teams in the future. We're also looking ahead to a summer social and have even started planning for Tour 2024!