If you would like your team to feature, please get in touch. We would love to hear from a variety of teams, new and old, good and bad!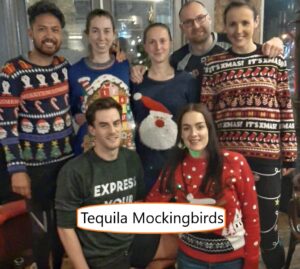 During the Covid-19 outbreak, we want to keep in touch with our teams, and get to know them even better whilst we're off the court.
In our fifth episode, we are getting to know Tequila Mockingbirds who play with our mixed A grade (oooh yeah we said "A" grade) on a Tuesday in Angel and are a determined netball loving bunch and as you can imagine with a name like Tequila Mockingbirds you can guess their favourite team tipple!
After lockdown, they can't wait to…🤞🤞WIN MIXED A GRADE FINAL🤞🤞
How did the team get together, and how do you all know each other?
We are Tequila Mockingbirds! Our team has been traced back to 2005 in Melbourne! So we've been around the block with some new and old faces to keep us going! 
What's been your netball career highlight?
Most recently our semi final win against Phoenix to bag us a spot in the final! But special mention to Jen and James who represented England in the Mixed Nets Squad! 
Top recommendation in London (apart from Playnetball.com obviously!)
Describe your team as a drink…
1, TEQUILA, 2 TEQUILA, 3 TEQUILA … FLOOR!! 
When you're not playing netball, what can we usually find you doing?
Playing more netball! At the pub! Watching the rugby. Gallivanting across the world! Visiting friends and family in Aus! 
If your team were to describe you in 3 words, what would they say (that we can print!)?
Determined, hard-working, and fun!! 
During lockdown we have been…
Doing jigsaws, painting by numbers, finishing a degree, zoom quizzes, growing a herb garden! 
Netfit on YouTube!
PT workouts over Zoom
Watching SSN games on the netball live app to get a netty fix