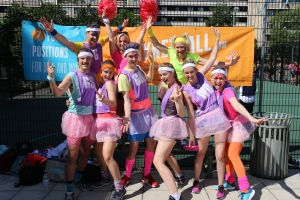 We've got 3 summer tournaments coming up. Make sure you've got all the gear!
Sunglasses – because it may just be sunny!
Tape – a great multi-purpose item that you know someone is going to ask for.
Plasters  – just in case.
Water – very important to keep hydrated.
Bin bag  – if it does rain you can use it to put your stuff inside.
Flip flops  – after hours of playing netball, it's great to set your feet free!
Hair clips – just in case the weather gets a bit windy.
Snacks  – a bag of Haribo goes a long way for team motivation.
Sun cream – you don't want to be looking like a tomato on Monday morning.
Fancy dress  – so you can look back at the pictures and remember the fun times.
Trainers  – the all important item.
Deodorant – to top up.
Money  – you know there's going to be a bbq or some good merchandise you want to get your hands on.
Spare clothes – it's nice to change into something a little less sweaty.
Pen – for keeping track of your scores!
If you're interested in playing in one of our tournaments take a look here.