Hi Netballers,
Have you heard of London Osteo yet? Maybe you have if your team recently won your league? You would have received a lovely voucher for a discounted massage and a free yoga/pilates class voucher. Sound familiar now?
If you haven't won a league, don't worry. There are lots of lovely things for you too! Keep reading.
London Osteo are a new company that we are working in partnership with to bring our netballers lots of good advice to keep your bodies fit and healthy. The bonus is that they they have some very skillful employees who can help with any ailments, injuries and general well-being including; osteo, physio, sports massage, pilates and yoga.
I went along to meet Annabelle and Eoin who make up two of the team. They are lovely! Annabelle has a masters in Osteopathy (that's gentle manipulation, soft tissue or massage, joint articulation, muscle relaxation and cranial osteopathy for anyone who's not sure. I did a quick google). Eoin is their brilliant Physiotherapist. Both also do sports/deep tissue massage. For any of you attending one of our summer tournaments, look out for Eoin – he will be offering 10 minute massages/ mini-Physio assessments so you can squeeze in a session in between your matches and be fresh to hop back on court!
An important thing to note is that their team work in collaboration with each other and often cross refer and interlink so you get the best bits of each of them depending on your needs. They have staff based in Angel, Moorgate and Monument and some staff can also offer home visits.
Their practices are based in Light Centre Monument, Light Centre Moorgate and St Albans Place in Angel so you can pick a location convenient for you. 
The prizes that they are offering our players are:
Team Winners: Discounted massage (£17 for 30 minutes) & free yoga/pilates class 
Star Player: Discounted massage (£17 for 45 minutes) 
Wooden Spoon (Losing team from league): Discounted massage (£17 for 30 minutes) Arriving next season for teams 
Don't worry if you didn't pick up one of these prizes this time around as they are also offering a 60 minute therapy session for £40 at the moment. You can visit them for anything including sports injuries, lower back pain, neck pain and tension, pre & post natal care, sports massages and more.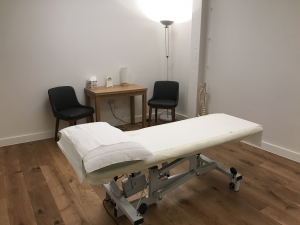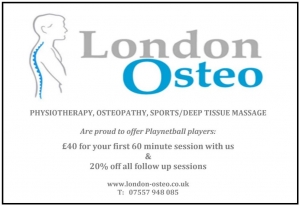 To take advantage of this offer please quote "Playnetball" when booking your appointment. We'd love to hear about your experiences with London-Osteo too so get in contact with us after your appointment. 
Kerry,
Playnetball and Playversatility