Good trainers are a must have in netball. They are key to providing support, grip, comfort and most importantly protection from injury.
When I first played netball back in school at the age of 11 (I'm sure we can all remember that far back) I wore black plimsolls and that was the best available. Now that I'm a coach and player (sometimes!) I look for something that can provide me with all the above. I will admit that the colour does sway me as well. 
A few brands that you can go for are:
Asics – Prices range from £33 – £99.50
Gilbert – Prices range from £33 – £53.99
Mizuno – Prices range from £25 – £80.99
New Balance – Prices range from £27.50 – £41.95
All of these brands provide trainers specifically for netball and thanks to Netball UK you can now get a discount!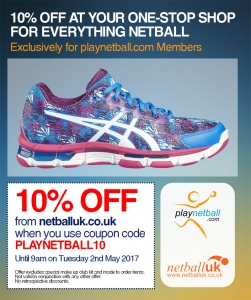 We've teamed up with Netball UK to offer a special promotion for our league players. Use the coupon code PLAYNETBALL10 to receive 10% off everything netball. This offer is valid from 25th April – 9am on 2nd May so don't miss out and order now! 
Something that the specific netball trainers can provide is extra attention to the sole with a 'pivot point'. Often meaning that there's extra padding on the inside and outside of the shoe in these areas as these are the first points to wear away. If you notice this in your current trainers, it would be worth investing in a new pair that have this 'pivot point'. Only the Asics Pivot and Gilbert shoes have a pivot point and the former is only the entry level ASICS shoe with the least amount of gel. The top netball shoes have flex grooves in the sole to give flexibility when changing direction while maintaining stability.
It's important to mention an important difference between running and netball trainers which is the lateral movement support. When running you tend to be going in a straight line but netball is all about changing direction. They often put extra padding in the heel of netball trainers for cushioned landing and the additional ankle support can be very important. For guys who may struggle to find 'netball' trainers as they tend to be coloured for the female market, tennis/handball/basketball shoes can be a good alternative as they also have the lateral movement support. Hopefully there will be more netball trainers available for men in the not too distant future although some trainers within the links above do go up to a size 11.  
Think about whether you want a mesh or hard cover on the upper part of the trainer. The mesh ones tend to be more lightweight and are breathable meaning there's less chance of them smelling! The hard cover ones are water proof and can protect your feet more if a player accidentally lands on your feet – and we all know how that feels. Depending on your position you may prefer different styles of netball trainer. Kat Cruickshank, London and South East Regional Coordinator at England Netball says "In my experience circle players prefer a heavier more supportive shoes with a lot of ankle support whereas mid court players prefer a lighter weight 'fast' shoe. When I'm umpiring I see a lot of people wearing lightweight fashion trainers and I really worry about the ankle turning risk they are running as the fashion shoes are not designed for the demands your foot is put through during netball.".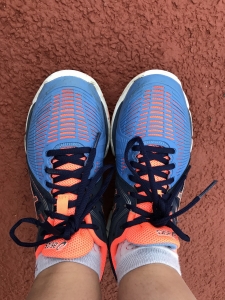 We asked one of our netballers why she chose her specific trainers. Nicola from The Fireballs said "I'd hurt my ankle playing netball and my physio told me that I needed to get some specific netball trainers. Since buying my Asics, I've had no injuries". 
The other thing that makes a massive difference is how well you tie your laces. This video on our YouTube channel shows a way to tie laces that uses the two holes (both on each side) at the top of the lacing on netball trainers. By creating a loop with the same lace on each side then passing the end of the lace through the loop on the other side and tightening you add even more ankle support. Having loose laces can let your foot slide around increasing the risk of rolling your ankle and blisters on your feet.
Finally, when you get new trainers make sure you have time to get used to them before jumping straight into a match. Take them out for a jog and warm up in them. The extra grip on your new trainers can be very dangerous for your toes and ankles if you're not used to stopping so quickly! I speak from experience!
Kerry from Playnetball.com