On Saturday 11th March we went along to the Copperbox Arena for Netball London Live's event: Surrey Storm vs Hertfordshire Mavericks in the Vitality Netball Superleague. It was round 4 of the league and Surrey Storm were sitting pretty in first place.
We'd gone along because a) it's a great opportunity to watch some amazing netball and b) we wanted to tell everyone how fun the Playnetball league is to be part of. 
A big thank you to three of our umpires, Damian, Anila and Vela who manned our stall.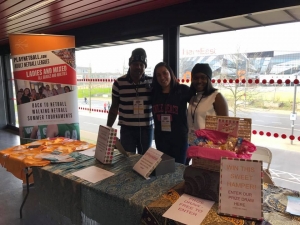 We had a couple of goodies to give away in our prize draws! A sweet hamper filled with some classic favourites and a netball signed by the Storm and Mavericks players!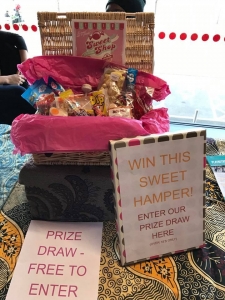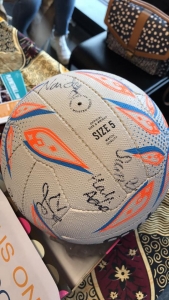 The doors opened at 4pm and there were lots of activities for fans to get involved with before the match started at 6pm, including competitions on crazy catch, trampolining and face painting.
Before the match fans were entertained with music, dancing and watching the teams warm-up. 
The teams are warming up. Storm v Mavericks @CopperBoxArena pic.twitter.com/LZIA8sF3oZ

— playnetball (@playnetball) March 11, 2017
We also got a visit from the mascot!
The crowd were really getting into the game before the 2nd quarter started. 

The lucky winner of the hamper was announced at half time. Congratulations to Christina, pictured below with her daughter. Sarah was the winner of the signed netball (picture to come).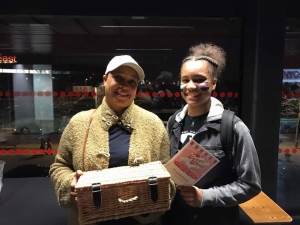 The match finished with Storm winning 67 – 45. It was great to see the players stick around after the match finished and take pictures with fans. 
And the players loved it too @missamyleigh 💙 All @SurreyStorm signed, so worth a small fortune now. And it was #SeenOnSky so I'm told pic.twitter.com/gGtB0wT5GM

— Suzi Williams (@SuziByGaslight) March 11, 2017
We'll be teaming up again with London Live at their next event so we'll keep you posted on how you can get involved and win tickets. We hope you've managed to keep up with the Vitality Netball SuperLeague so far- they now have an app which is free to download!