The Lock Lasses are Bea, Emma, Esther, Florence, Harriett, Jai, Lou, Lucy, Mairi and Steph, and we play in B Grade at Highbury on Tuesdays.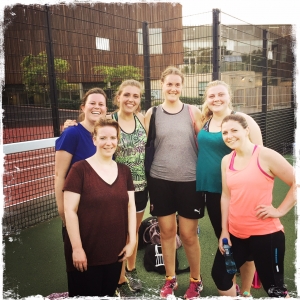 1) How did you all meet and decide to play netball together?
We're actually mostly randoms that got put together by chance!  Back in 2006, we were mostly relatively new to London and were looking to make friends and keep fit.  The only original members from then are Esther, Steph and Florence.  Since 2006, we've had players come and go – either more randoms, or friends of players…so I think we could count at least 25 players over the last 11 years!  Although randomly put together, we've all become friends and our netball team has made flatmates, holiday buddies, best friends and even bridesmaids!
2) What do you like about playing netball as a team?
We're all in it for the same reason – we like playing and try not to take it too seriously….although we do like winning occasionally! And obviously the after match drinks are a massive incentive.
3) If you had a team kit, what would your colours be and why?
Although we don't have a kit – Mairi (our marketing guru) did have a logo made up!  Next step is to get this printed on a kit….
4) Who's the most competitive player on your team and who's the most chilled?
Errrmmmm – apparently there is actually some competition for the most competitive player!  It's a close tie between Bea, Steph and Florence. The most chilled goes to Esther, although Lou is a close 2nd!
5) What did you do for your last team social?
Nothing too hectic – went for Japanese food in Covent Garden and a few bottles of wine.
6) What 3 words would you use to best describe your team?
Fun, competitive and optimistic…we always look on the bright side.
Thanks to Lock Lasses for their interview. We hope you've enjoyed getting to know them. If your team are interested in doing a interview get in touch!