Everyone knows that whilst playing any sport, there is a risk of injury, despite the preparations you can take to reduce the chances, as I found out two years ago when I tore my ACL and required an operation to fix it.
After completing my post-op physiotherapy, I eventually joined a local gym, and began attending some of the classes to help rebuild my confidence and strengthen the joint. Despite the great strides I had taken, I was still unsure about returning to netball. However with a lot of perseverance, I have just run my first 5k, and am entering a netball tournament next month, although I still have a lot of tension in my legs, in particular around the knee – so I booked an appointment to see Eoin.
I was greeted upon arrival at the Light Centre (Monument) and informed I could wait downstairs. The facilities at London Osteo are new and very well maintained, so even though I knew I was in for a tough time with the sports massage, I was in good hands. On my way, I passed CRUSSH and their selection of great looking food and healthy drinks options, including smoothies. I didn't have the time to stop, but it is a great option if you have a chance.
When I sat down with Eoin, we discussed my knee, and talked about what I would like to focus on in this session. Eoin focused on the muscles supporting my knee, balancing the work of relieving tension with the pain of working on tight muscles, although it's the kind of pain that you know you will benefit from later. Once or twice my left leg kicked out slightly, and Eoin told me that he had previously been kicked in the face in similar circumstances. I assured him that I would try to avoid a repeat!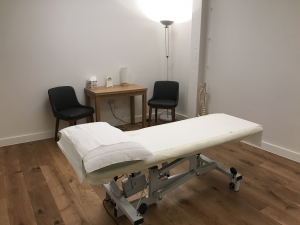 As I grimaced my way through the rest of the massage, Eoin made sure to discuss the importance of daily stretching of all the different areas of the leg, including quads, calves, hamstring and inside leg.
The last part of the session was focused on stability and we discussed further exercises I could do at home to help further. As Eoin explained, most people focus on strength and stamina, and forget stability, which can often lead to reoccurring injuries. By the end of the session, my leg muscles definitely felt a lot looser and many of the aches and pains has dissipated.
In the days following my sports massage, my leg felt so much better and I was able to go through the day without being distracted about any aches or pains. It also encouraged me to go for a walk during my lunch breaks in the aim to keep supple. This has resulted in me having a more positive attitude to keeping active.
If this sounds like something you would be interested in or would benefit you, Eoin is offering all Playnetball and Playversatility players a 1 hour physio or sports massage appointment for just £40! Quote 'Playnetball' when booking to receive this great offer.
You can book an appointment with Eoin at www.london-osteo.co.uk or call 07557 948 085.