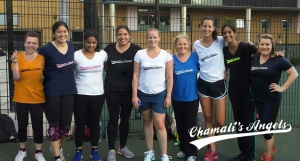 Chamali's Angels are our latest team to be interviewed in this feature of getting to know our teams better. Since joining the league last season in ladies C grade on Thursdays in Angel they won the league and were promoted to B grade! Congrats to them 😀 The team are regulars at The Joker after their matches on Thursday and a few of them took part in one of our summer tournaments this year. We love how enthusiastic they are about netball (loving the t-shirts guys) and hope you enjoy getting to know them a bit more too. 
1) Please tell us who you all are. 
Players: Lammie & Dee (aka The Veracruz sisters), Cali, Chamali, Hannah, Julie, Maria, Rachel, Van
Significant Height Range: 4 ft 11 – 5 ft 11
2) How did you all meet and decide to play netball together?
Charlie's dead (not the petticoat). Lucy Liu and her colleagues retired. Chamali took over the private investigation agency and new angels were recruited from old teams that played elsewhere in London such as the Spice Girls, Mystery Jets and 007.
3) What's your reason for playing netball?
A mix of reasons:
"This team is my emotional support network."

[Anon]

"Netball provides the perfect antidote to stress" [Chamali]

"Playing on a Thursday is a good build up to the weekend, I feel I can relax, have a few post match drinks." [Name cannot be disclosed for legal reasons]

Rachel told Nick Hewer (Lord Sugar's former sidekick) on TV's Countdown 2016, "Out of all the sports I play, netball is my favourite."

"Now I have a baby this is one of my few nights off in the week when it is ALL ABOUT ME for a change." [Van]

Playing a sport I enjoyed at school and meeting a new group of fabulous women [Julie]

4) If you could recruit any player (international, superleague, local hero etc) as a super sub who would it be?

Thank you for the opportunity but we love our team too much to make any substitutions.

5) Do you have a team song?

Err… a revamp of Destiny's Child: Independent Woman

6) What do you think should be the next Playnetball social?

Unsurprisingly our Julie is advocating a cocktail bar! We are up for most things and more than a few of us would delighted if the activity could involve interaction with some dashingly good-looking chaps, perchance a game of rounders…

7) If you were all stranded on a desert island, who would be the final survivor? Why?

Julie: resilient, evolutionary, been there, done that, seen it all, nothing and I mean nothing will phase Julie and if you try to mess with Julie … this sentence had to be edited for legal reasons.

8) What three words would you use to describe your team?

Amusing, Polite, Competitive

Thanks to Chamali's Angels for their interview. If your team would like to be interviewed next please get in touch: interest@playnetball.com.