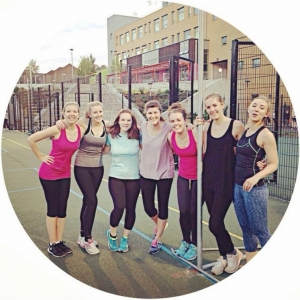 We wanted to get to know our teams better so when Kerry was at the courts one night she approached Big Ballers to ask if they'd do a little interview with us that we could share with all of you. Luckily for us they said yes and were happy to share their netball story. Read their interview below. 
1) Please tell us who you all are.
We are Big Ballers and we play in the Wednesday Ladies C league in Angel. On the team are Maria, Kerry, Sarah, Steph, Sophie, Chloe, Julia, Lucie, Katie, Tamsin and Kate and we range in age from 23 to 28.
2) How did you all meet and decide to play netball together?
We are all connected in various different ways – some of us work at Lloyds Bank together, some of the girls worked at RBS together, a few of the girls went to uni together and some went to school together!
3) What's your reason for playing netball? 
We like playing netball to keep fit and have a good laugh! We really enjoying the team aspect of the game. Beats going to the gym!
4) If you could recruit any player as a super sub who would it be?
Serena Williams – she's a great role model for women, and we think she'd be a fab hand at netball. If nothing else, we could use some of her muscle.
5) Do you have a team song?
There is a new HBO season called Ballers staring the Rock – we are adopting the theme tune as our team song. Check out the song on YouTube!
6) What do you think should be the next Playnetball social?
Bowling could be fun! With cocktails on the side 🙂
7) If you were all stranded on a desert island, who in your team would be the final survivor and why?
Steph would be the last survivor – she's scrappy, can (despite her height) leap miraculously high to get all the coconuts, and hide in small caves away from the pirates/ lurking island beasts.
8) What three words would you use to describe your team?
Fun, friendly and feisty!
Thanks to Big Ballers who are the first team do a team interview with us. If your team would like to be next please contact Kerry at interest@playnetball.com.