Last Christmas we donated £500 to The Farakunku Foundation which supports children in The Gambia. The money was raised through the sale of entry and raffle tickets at the Playnetball Christmas party. Alex from The Farakunku Foundation has kindly sent us an update about how the money has been used and we wanted to share this news with you.
The Gambia is a tiny country in West Africa that we probably know best as a winter sun holiday destination. But beyond the beaches and the tourist hotels – predominantly owned by European investors – most families rely on subsistence farming and fishing to survive. For too many families, the expense of sending their children to school is an expense too far. Since our charity started, we've been supporting individual children, ensuring they have everything they need for school and giving them the opportunities they need to help change their futures. Your generous donation has allowed us to work in a different way and help even more young people.
One of the communities that we work with has a nursery school; it receives very little statutory funding but does an amazing job providing a safe place for over 250 children from the surrounding villages to begin their education. The local community really values the school and does a huge amount to help; local women have established a rota so they can take turns to carry water in and cook lunches, whilst the men carry out necessary odd jobs and cleaning (gender equality hasn't been fully embraced…). But the school has been struggling for the funding it needs to deliver the service it wants to provide. Thanks to your donation, we've been able to help.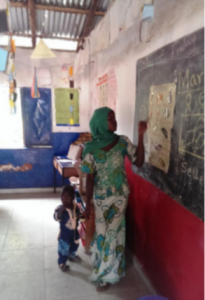 With your money, we've funded a teacher's salary for the year. Mrs Mbassey Jabang teaches the oldest class at the school, preparing them for the start of their formal education; so many children in The Gambia don't have this advantage and start school with no ability to read or write. Families in their own homes will speak in their tribal language, such as Mandinka, Wolof or Fula, meaning children can also start school with no knowledge of English, the language used in the school system. The nursery school tackles these problems by taking in children as young as three.
Over this last term, Mrs Jabang has been working with her pupils on a range of topics and themes, some of which are probably recognisable to teachers the world over and some of which take priority in a community where families make a living growing what they can in the land around their compounds:
Domestic animals
Letters and numbers
The market
Colours and shapes
The family
The human body
The students are well looked after by the school, and Mrs Jabang has been pleased with the efforts of her class. One of our Trustees is based in The Gambia and was invited to sit in on a lesson on 'the market' – pupils took turns going up to the blackboard to identify the customers and the vendors, and the different fish, meat and vegetables that were on offer. Back at their desks, the children drew their own markets and carefully labelled the pictures that they produced.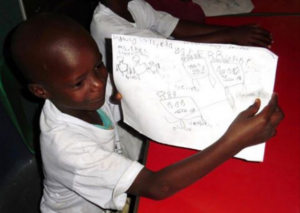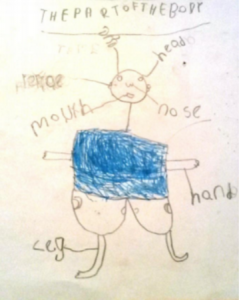 We've been really impressed with the school's attitude over this first term of funding, and have no hesitation in supporting them for a full year. And yes, £500 really does cover a qualified teacher's salary for a full year! The Nursery School makes a huge difference to the children, giving them a great start to their education and increasing their chances later in life. Thanks to your generosity, we've been able to lift some of the financial worry away from the school and ensure that they really can deliver a quality service to their pupils.
Your donation is supporting dozens of children over the year. Thank you for your generosity, and thank you for making a difference.
With very best wishes, Alex
We're so pleased to hear how the money raised has made a difference. You can read more about Farakunku by visiting their website and liking them on Facebook.