Last Christmas we donated £500 to the Netball Development Trust (NDT) which delivers netball at grass roots level to girls and boys in primary school in some of the least developed regions in the world. The money was raised through the sale of entry and raffle tickets at the Playnetball Christmas party so we wanted to give you an update on how your money has helped.
Monica Thandi who is the founder and Chairperson of NDT informed us that the money kindly donated went towards their general funds for their projects in Uganda, Kenya, India and Pakistan.
Last year NDT launched Sanitary Pad Appeal to help girls in Kenya. It is estimated that girls are missing 4 days a month of school because they don't have access to hygienic sanitary pads and therefore cannot attend school and cannot play netball.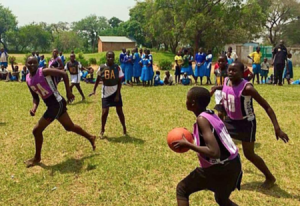 In January, NDT hosted a netball tournament in which 5 schools from the rural parts of Bungoma County, Kenya took part in. 150 girls and 75 boys participated in the tournament. NDT worked with the class teachers, who interact with the girls on a daily basis to understand the challenges they face, and identified female students that could benefit from the NDT pad programme. NDT is supporting their friend Mary who will buy sanitary pads for the girls in their programme to make their lives easier, healthier and happier.
We will have more updates from you later in the summer.
You can learn more about the Netball Development Trust here.