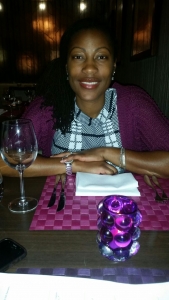 Zoey is our Site Manager on Mondays in Highbury. Zoey has been with Playnetball from the beginning and is a great member of the umpiring team. We wanted to get to know Zoey better so we asked her the questions below and these were her responses. 
Tell us about yourself…
I live in Enfield, north London, I have a great husband and a little pre-netballer, (daughter). I'm a social worker and obviously, I am netball mad.
How did you get into umpiring?
I became interested in umpiring after playing for a few years and I thought it would be nice to try something new which would also help my netball skills. I carried on with my umpiring and made it one of my ambitions to get as far as I can, I am now an A award and umpire the England Netball premier league.
Do you play netball as well as umpire?
Yes, I play for a club local to my home, Palmers Green Netball Club.
Do you play or umpire any other sports?
Nope, netball is my only sport because its the best!!!! I used to like badminton and volley ball growing up too, but netball has kind of taken over. I like to think that I go for a jog every now and then. I have all the gear (and no idea) to prove it!
Have you always lived in London?
On and off, I was born in Walsall but lived in London until I was 7 then spent a few years in Luton before returning to London when I was 18. Now this is where I feel most at home.
Where's a place that you would recommend visiting in London? A bar, restaurant, park etc.
Hhhmmm….so many places to recommend where do I start…??? Free museums, any and all of them. My favourite restaurant is Thalassa in Southgate; amazing seafood and Greek meze. I do love the local parks around where I live, Trent Park, Forty Hall, Oak Hill …too many to mention.
What's your favourite netball position and why?
I like to think I am pretty versatile and can play all of the positions but GD is probably my favourite as its so key in defence plus you can really help bring the ball down in attack too, helping to support the team at both ends.
Wise words that you always live by:
Treat others how you would like to be treated, the world would be a lovelier place if we all lived by this and similar.
When you're not working, what do you get up to?
Apart from being a wife and mother I have become a sewing freak, totally obsessed at the mo…hand making lots of my daughter's clothes whilst she is still young enough to happily wear them. 😀
If you see Zoey at the courts say hi and strike up a conversation with her. Maybe you've been to Thalassa too! You can read Fee's interview here. Look our for more interviews coming soon!