A big thanks to all the teams that took part in our pub quiz last night at The Joker of Penton Street – our sponsor pub in Angel where netballers get 20% off their drinks!
Our Quiz-master Sarah and Social Secretary Emma did a great job and I think it's fair to say that everyone had a great time!
The brainy winners walking away with £60 in first place were Balls Up who scored 55 points. Second place went to Mighty Ducks who bagged themselves a £50 bar voucher at the Joker, scoring 52 points. They also won our extra bonanza question at the end of the night and won £50 off their next season fees! Third place went to Jaguars who won £30 with 51 points. Coming in sixth place were All Sorts of Progress but we gave them an A for effort and they also nabbed themselves a free team meal for six at Chipotle! Congrats to all of the winners!
Finally a few thank yous – Chipotle, The Joker and our social crew (Becca, Emma and Sarah). We couldn't do it without you!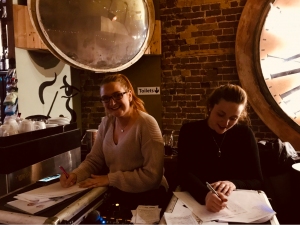 Quizmaster Sarah and Social Sec Emma