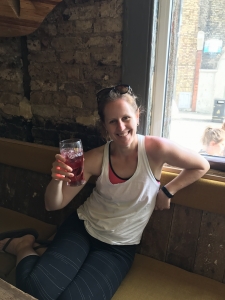 1. Please tell us about yourself.
I'm Rachel, I'm 36, and I work in Laboratory Operations, and have been involved with netball for more years then I like to remember!
2. How did you get into umpiring?
I got into umpiring through my school club in Oz. We all got handed a whistle at about 13 and for some reason I stuck with it. I gained my C and B awards in Oz, then progressed to my A in the UK. I've been lucky enough to umpire throughout the UK with the Premier and Super Leagues, and even got to go over to Canada.
3. Do you play netball as well as umpire?
Yes, I play netball for Unapologetics in the Mixed A Grade on Tuesdays in Angel. As well as for Cumberland Netball Club. I tend to stick to the attack, as defence is just way too hard!
4. Have you always lived in London?
No, I am Kiwi born and Aussie raised. I moved to London about 9 years ago, and haven't thought about leaving since.
5. Where/what in London would you recommend visiting?
There are just so many great places to go in London, but in the summer (the whole week we get), visit all the green spaces scattered throughout the city!
6. What's your favourite netball fancy dress?
Anything and everything, especially if it's colourful.
7. What do you get up to in your spare time?
I like catching up with friends, running or just chilling out reading a book.
8. Do you play any other sports?
Nothing on a regular basis, but happy to give most sports a try at least once!
Say hi to Rachel if you see her at the courts! Check out more umpire interviews here.