We're having an awesomely huuuuge, blues-beating, sobriety-busting, awards-giving party. 
Want to meet other teams, drink, dance and have some fun? Then come to our legendary annual playnetball party! You'll receive a free strip of raffle tickets with your ticket. 
Complete the form below and then make your payment using the details below.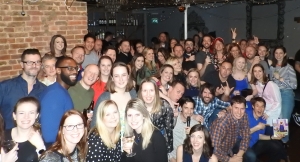 Date: Saturday 2nd February
Location: The White Horse – Geronimo Inns
2 Exchange Square Appold Street, London, EC2M 2QA  
Time: 7:30 pm
Price: £10 
Entertainment: Music, awards and raffle.
All proceeds go to our two chosen charities; Netball Development Trust and Farakunku Foundation
 Payments can be made to:
SOCIAL NETBALLERS & UMPIRE CLUB
23-05-80
22688421